ZU AUDIO Essence – Jet Black
Titolo: ZU AUDIO Essence – Jet Black
ZU AUDIO Essence – Jet Black , sono diffusori americani costruiti nello Utha, hanno la caratteristica della massima semplicità progettuale unita all'alta efficienza. Gran parte del lavoro…

With a claimed 97dB/12-ohm sensitivity for the 2-driver 1.5-way Zu, matched listening levels to the 91dB/8-ohm 5-driver 3-way Tango only ….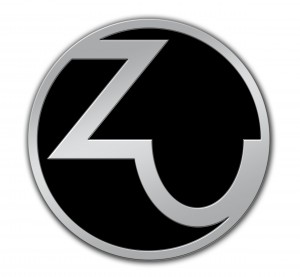 Quotazione/Quote: euro 2.600/3.000 la coppia
ZU AUDIO Essence – Jet Black , sono diffusori americani costruiti nello Utha, hanno la caratteristica della massima semplicità progettuale unita all'alta efficienza. Gran parte del lavoro di riproduzione viene svolto dal mid-woofer di generose dimensioni, mentre il tweeter planare svolge un ruolo di rifinitura, infondendo ariosità alla riproduzione. L'incrocio con il crossover è quanto di più semplice si possa realizzare, rispettando la filosofia del costruttore secondo il quale l'altoparlante principale deve essere in grado di coprire la più ampia banda possibile mantenendo una risposta sul basso lineare, usando pochissimi componenti sul percorso del segnale per preservare la coerenza di fase e l'allineamento temporale per una rappresentazione della scena acustica realistica.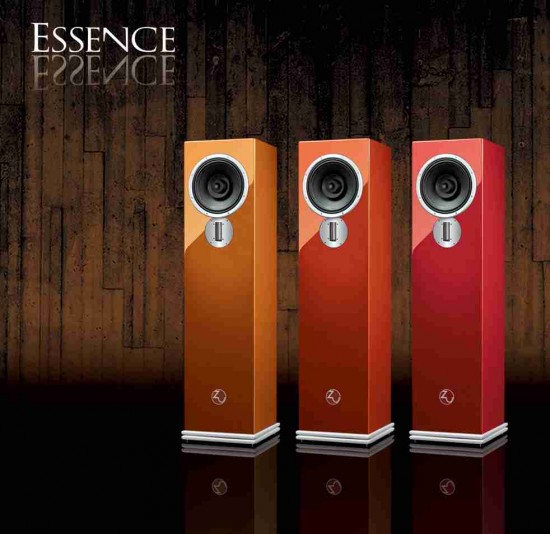 Adottando trasduttori per la gamma medio-bassa con una superficie dei coni molto ampia, piuttosto che basandosi su una grande escursione per la riproduzione delle frequenze basse, questi diffusori assicurano, in forza della elevata sensibilità, un alto grado di coinvolgimento. A livello timbrico qualche caratterizzazione si fa tranquillamente perdonare grazie alla performance generale molto buona.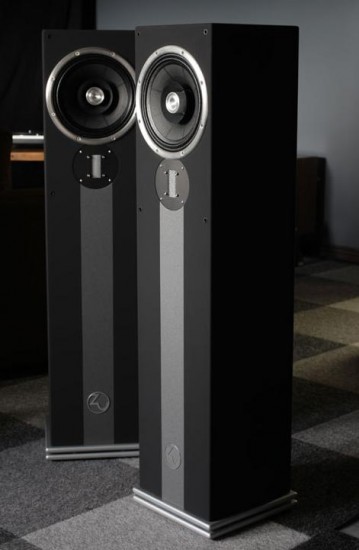 Recensioni
http://www.6moons.com/audioreviews/yamamoto11/5.html
Reviewer: Srajan Ebaen
With a claimed 97dB/12-ohm sensitivity for the 2-driver 1.5-way Zu, matched listening levels to the 91dB/8-ohm 5-driver 3-way Tango only had the Tap's autoformers at 5dB lower windings. Even so clipping—which in its mildest form simply sounds dirty—now was banished for good from my customary levels (I'm sure undue enthusiasm would have put a lie to that but I have neighbors). The rather less challenging bass system of the Zus was clearly in the Yamamoto's favor too.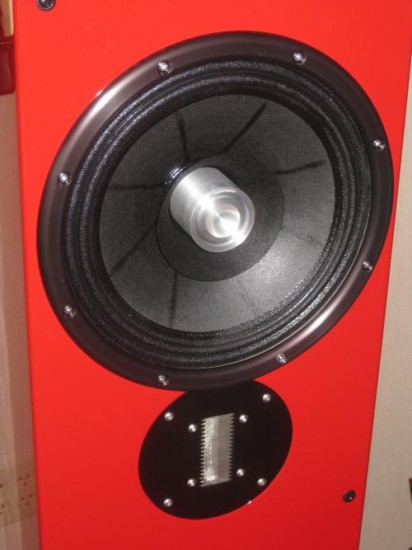 Some presence region finesse and tinkle was left behind with the Esotar clone tweeter and triple resonators of the Tangos but Zu's trademark meatiness clearly made the flea-power amp sound beefier if no longer as preternaturally 3D.
Having very recently taken first stabs at the Spatial/Emerald Physic setup with comprehensive speaker/room correction performed directly on the digital files—albeit requiring digital attenuation to the tune of 50dB—I found the Yamamoto/Zu rig to be vastly more enjoyable and tune/toneful.

Where the DSP'd system has broader bandwidth, greater linearity and for all intents and purposes unlimited SPL potential, it also sounded dry-cleaned, starched, pale, flat and – well, boring. I was strongly rooting for it. The basic concept appeals to how I believe common problems will one day be solved. Alas for now, the comparatively Stone Age technology of big paper-cone widebanders without crossover and NOS direct-heated triodes trounced the smart modern stuff on emotional conviction, tone density, incarnation factor and juice…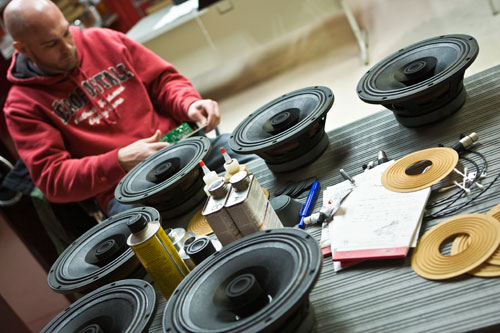 http://www.theabsolutesound.com/articles/zu-audio-essence-loudspeaker-tas-212/
Reviewer: Neil Gader
Zu Audio is a Utah-based loudspeaker and accessory company that was founded in 2000. The brainchild of Sean Casey (R&D) and Adam Decaria (Chief Engineer), each formerly of Kimber and Talon respectively, these entrepreneurs have assembled a business with a clearly defined identity and strong sense of direction. For proof of this you need to look no further than their mid-line Essence loudspeaker. Not the product of cookie-cutter, been-there-done-that design and manufacturing, it's refreshingly plainspoken, almost severe—a monolith with no poetic aspirations. It's not trying to resemble a rocket ship or a totem pole or an aircraft carrier.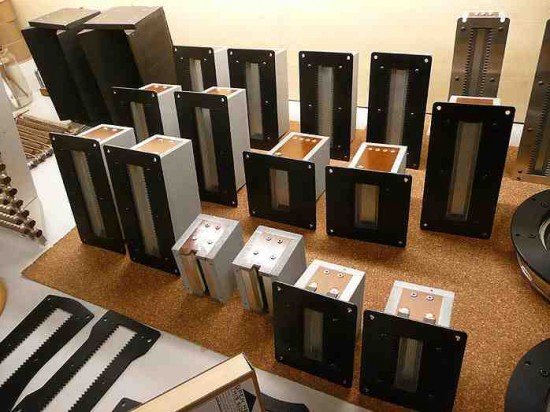 Its unapologetically blocky dimensions seek no softening from a well-placed curve or gentle radius. It's just a big square slab of retro-loudspeaker, nearly fifty inches tall, that in any normal-sized room will not be ignored. Yet, in my listening room, bedecked in a soft, matte, avocado finish that made be crave guacamole every time I looked at it, the package somehow worked. It received nothing but nostalgic "oohs" and "aahs" from all who sat in my listening room, as if they recognized a kindred spirit from another time…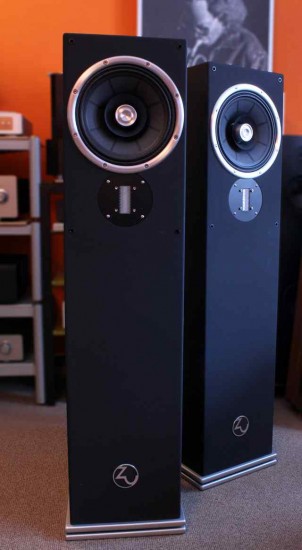 http://www.6moons.com/audioreviews/zu16/essence.html
Reviewer: Srajan Ebaen
It was Adam Decaria of Zu Audio on the phone with the big four – opportunity; timing; plans; changes. "As you know, those are all interconnected. In 2008, a big European importer approached us with an attractive offer to centralize our European distribution. We'd been secretly working with TangBand and Raal Ribbon to upgrade our treble units which had often been criticized for lack of refinement. We had long-standing plans to implement a full Grieve cartridge in the Druid. We wanted to address requests for wood finishes and grills.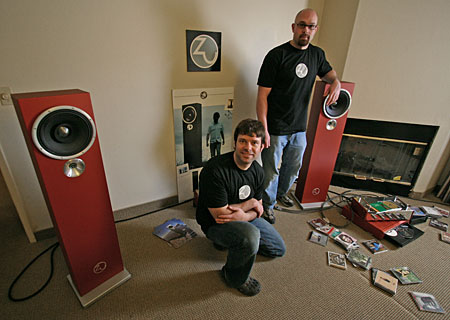 During 2008, we had invested heavily into a very sophisticated new paint booth and streamlined production capabilities. We've matured as individuals (laughs) to recognize our core abilities and where we're weak. In short, many things intersected. They suggested an opportunity for a quasi reemergence of our brand. It would incorporate lessons learned, mistakes admitted and requests answered. It would put various things on a common track and focus our core competencies on making an even better product. Plus, more advanced finishes…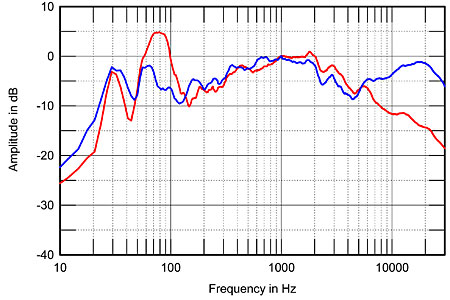 http://news.cnet.com/8301-13645_3-20008331-47.html
Reviewer: Steve Guttenberg
The Zu Essence is a big speaker, with a really big sound, fully capable of rocking out like few high-end speakers anywhere near its $3,600 price can. The Essence's wham-bam dynamics are explosive, so please trust me on this, you'll never get that sort of impact from a bookshelf or smaller speaker. My complete Essence review appeared in Home Entertainment magazine, but let me share with you the gist.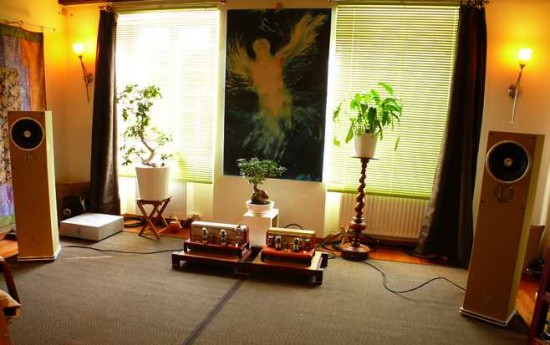 Speaker design over the last decade has mostly been devoted to producing greater accuracy, higher resolution, lower distortion, and wider frequency response, but those qualities don't necessarily produce a sound that will stir your soul. Accuracy is one thing, but there's an artistry to speaker design no computer will ever match. Zu designers are definitely more interested in musicality than accuracy, and it totally works…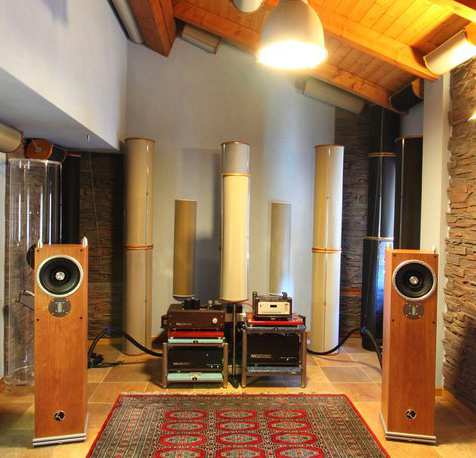 http://www.stereophile.com/content/zu-essence-loudspeaker-measurements
Reviewer: John Atkinson
One of the Zu Essence's unique selling points is its very high efficiency. While my estimate of its sensitivity, 92.5dB(B)/2.83V/m, is lower than the specified 97dB (due, I suspect, both to the 12 ohm impedance and to the lack of presence-region energy in the on-axis response—see later), it's still 10dB higher than the sensitivity of the BBC LS3/5A. Probably to oversimplify, the Zu speaker driven by 10W will play as loudly as the LS3/5A driven by 100W—assuming the little BBC monitor could actually handle 100W without melting!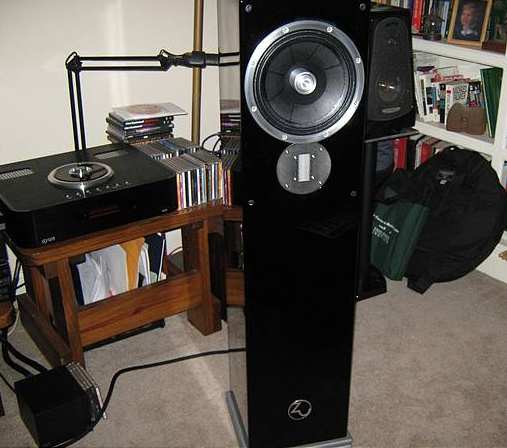 Not only does the Essence not require many volts to play loud, it doesn't need many amps, either: its impedance magnitude (fig.1, solid trace) remains above 12 ohms for most of the bass and treble, with a minimum value of 8.6 ohms at 250Hz. However, in the top octave—the region covered by its ribbon supertweeter—the impedance drops below 8 ohms to reach a value of just 4.3 ohms at 20kHz. With tube amplifiers having the usual high source impedance, the disparity between the impedance in the mid-treble and that above 10kHz will shelve the top octave down. Similarly, the reduced impedance in the lower midrange compared with that in the bass and treble will suppress that region somewhat when the Essence is driven by a tube amplifier.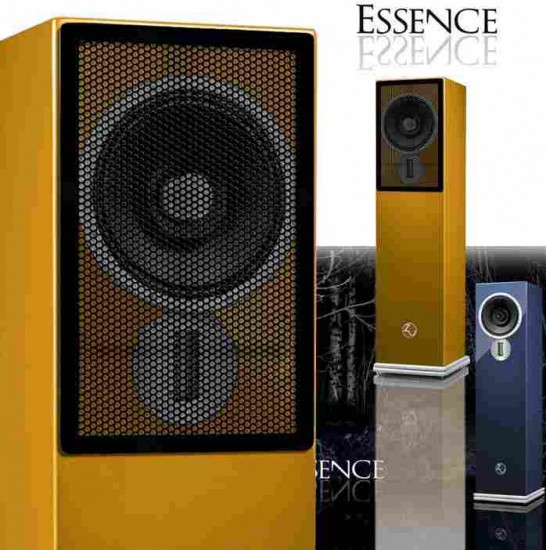 http://www.electronichouse.com/article/zu_audio_essence_review/C
Reviewer: EH Staff
Zu Audio's Essence speaker breaks almost every high-end design rule and sounds all the better for it! A great speaker should make you feel like you're there, with the music. That's the idea, but it almost never happens, even with some of the very best speakers money can buy.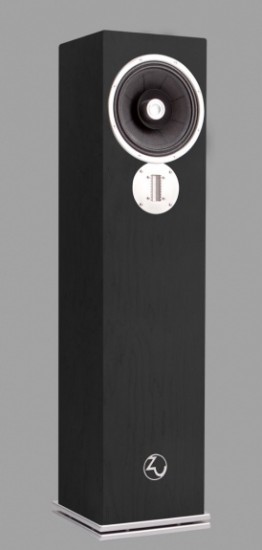 They can sound great, but they rarely sound like the real thing. Speaker design over the last decade or so has been devoted to producing ever greater accuracy, higher resolution, lower distortion and wider frequency response, but those qualities don't necessarily produce a sound that'll stir your soul…
Specifications:
Drivers: Ribbon tweeter, 10.33" full-range
Frequency response: 30Hz-40kHz
Sensitivity: 97dB
Nominal impedance: 12 ohms
Dimensions: 49" x 12" x 12"
Weight: 65 lbs.
Price: $4000 in standard finishes (walnut and ghost black); add $1200 for custom finishes.