AVANTGARDE DUO GOLD
AVANTGARDE DUO GOLD
AVANTGARDE DUO GOLD . La tedesca Avantgarde è un'azienda piuttosto conosciuta in Italia grazie all'intrigante bellezza delle sue realizzazioni e alla particolare filosofia costruttiva. …………
Powered by its impressive 27 inch spherical horn, the Duo is the epitome of performance and dynamic beauty…..

Editor: K. NAM
AVANTGARDE DUO GOLD
 Quotazione: Eur 4500/5500
AVANTGARDE DUO GOLD . La tedesca Avantgarde è un'azienda piuttosto conosciuta in Italia grazie all'intrigante bellezza delle sue realizzazioni e alla particolare filosofia costruttiva. Tale filosofia percorre la soluzione ibrida che vede insieme l'alta efficienza, con caricamento passivo a tromba per la gamma medio alta delle frequenze, unita a quella tradizionale, ma con altoparlanti attivi, cioè dotati di propria amplificazione, per la riproduzione delle basse frequenze.
Alla fama dei diffusori Avantgarde nel mondo dell'audiofilia, viene però affiancata l'opinione comune che questi diffusori suonino in modo poco omogeneo e risultino sempre con una gamma bassa svincolata dalle rimanenti fasce di frequenza con un evidente scollamento tra i due principali range di riproposizione della musica registrata………..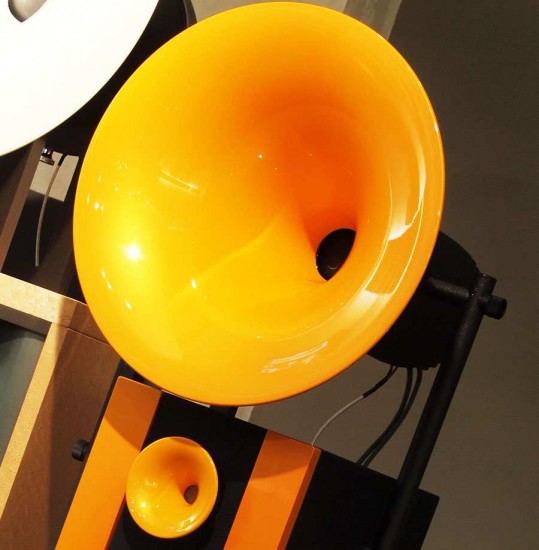 Recensione: Analog Magazine
I was knocked out. Simply stunning
Product: DUO G2
Editor: MASAHIRO NAKATSUKA
Date: 2010-06-02
"I was knocked out firstly by the look (of the DUO G2), then by the sound. You can rarely find such natural, responsive speaker as Avantgarde. Simply stunning." (ANALOG MAGAZINE, Masahiro Nakatsuka, JAPAN)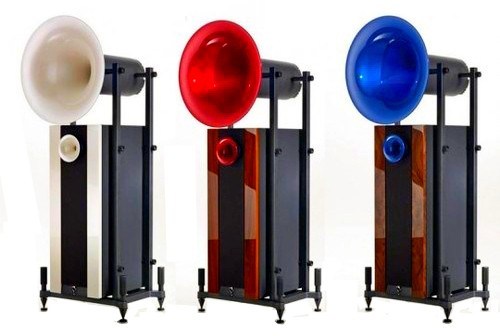 Recensione: Audio Art
As charming as a wonderful dream
Product: DUO OMEGA
Editor: JACK LIU
Date: 2010-06-01
"It´s like a rebirth: the new DUO G2 arrived. It´s outstanding strength are human voices. I played Andrea Boccelli´s "Vivere". The opening is unbelievable powerful with a very rich bass. But at the same time the notes are clean and totally controlled. Thereafter I played Mariza "Concerto em Lisboa". It´s just like Mariza stands in front of you: totally real. That´s how human voices sound in real life! This ability of reproducing music so realisticly puts its way ahead of any conventional speaker system. The DUO G2 is as charming as a wonderful dream." (AUDIO ART, Jack Liu, TAIWAN)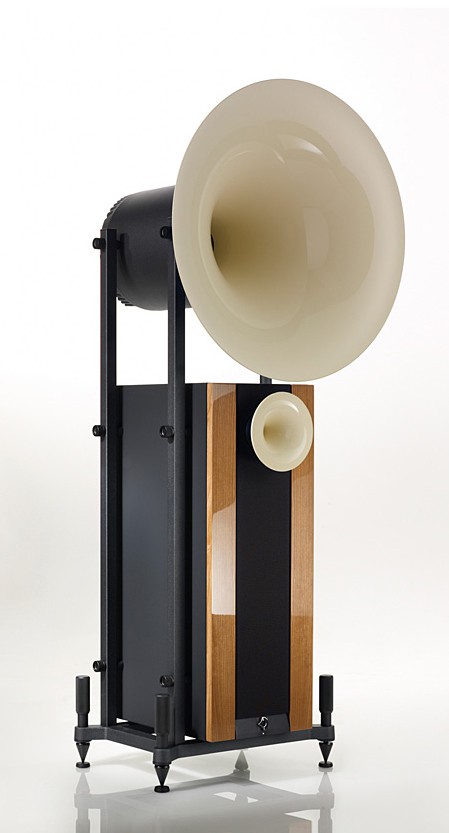 Recensione: Audio & Cinema
The Enchantment of a mermaid
Product: DUO G2
Editor: J. ZEFERINO
Date: 2010-03-01
"The DUO G2 – the enchantment of the mermaid. The Avantgarde demonstrated a visceral sound with a dynamic, lightness and fast response of transients. As expected it was able to produce a large sound with willful, realistic and palpable presentation of the musical event – neutral, open and straightforward. Although extremely detailed it cannot be accused of coldness. On the contrary … Very open, transparent, fantastically dynamic while revealing the smallest details that many other speakers are tabula rasa." (AUDIO & CINEMA EM CASA, J. Zeferino, PORTUGAL)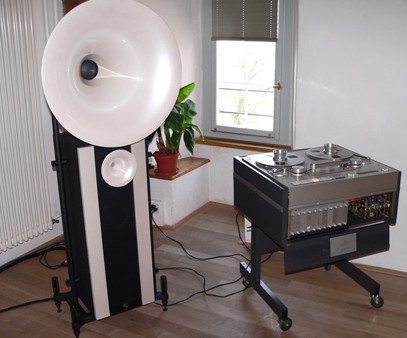 Recensione: Audio
A piece of sculpture
Product: DUO GROSSO
Editor: K. NAM
Date: 2009-06-01
"Looking at the beautiful metallic paint finish of the horn, I was deluded myself as if it is not simply a loudspeaker, but a big painting, a piece of sculpture, or a huge flower. If you bring DUO GROSSO in your living room, you may not need to have any other pieces of art." (AUDIO, K. Nam, KOREA)
Model DUO
Powered by its impressive 27 inch spherical horn, the Duo is the epitome of performance and dynamic beauty. Technical perfection is swathed in elegant design–work, with lines that are elegant and modern yet classic and, above all, typically Avantgarde Acoustic™.
The Duo series will change your perception of music. Do not expect less.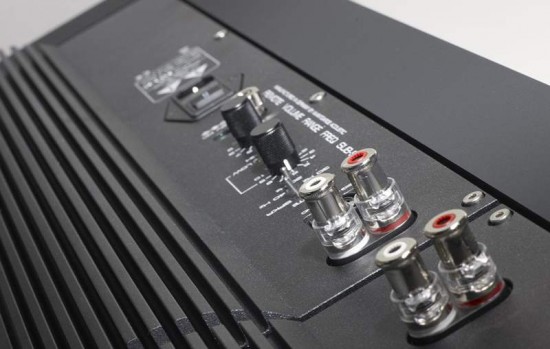 In the captivating world of horns, size matters: the bigger the dimensions of the horns, the more extended the bandwidth becomes, and the more the listener takes advantage of the incredible performance of the horn technology. That is why our engineers focused all of their expertise to develop a set of unique enlarged spherical horns with an extended frequency range of one full octave – compared to its smaller Uno brother. The result is the spectacular 27 inch spherical midrange horn, seamlessly powered by the high performance 7 inch M2 driver.
The tweeter H2 is now integrated within the subwoofer assembly. The bass resonance chamber has been increased, while the overall depth of the system has become significantly smaller.
Perfectly in tune with our design philosophy, there are zero components along the midrange signal path. There are no filters and no crossovers. No unnecessary interactions or losses. Only crisp response, unforgettable detail and endless dynamics – the true Avantgarde experience.
The system rests on a solid cast aluminium base frame with integrated micro–levelling spikes. The precision handles are made from solid, turned aluminium and respond with smooth easy motion when setting up the system.
The Duo–series is the most significant product line within the Avantgarde Acoustic™ portfolio. The 27 inch spherical midrange horn of this series is a perfect symbiosis of low cut–off frequency, size and outstanding performance.
The Duo is entirely in its element playing complex music, providing an inspirational experience for its owner. Beauty, elegance, craftsmanship and the magic of its spherical horns are brought together in one emotional package, an object of beauty that never fails to stir the soul.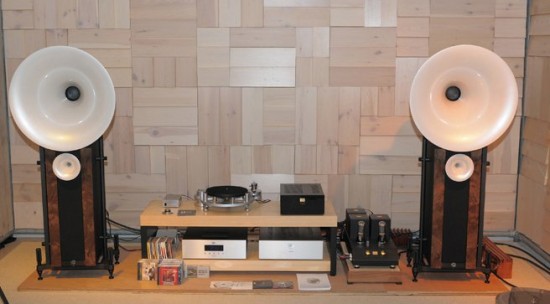 TECHNICAL DATA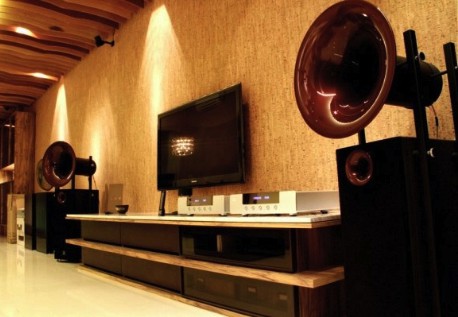 | | | |
| --- | --- | --- |
| | | DUO |
| | | |
| SPECIFICATIONS | | |
| | | |
| Frequency range | Satellite | 170 – 20,000 Hz |
| | Subwoofer | 18 – 350 Hz |
| Power Handling | | 100 Watt |
| Efficiency (1Watt/1m) | | > 104 dB |
| Crossover Frequencies | | 170/2,000 Hz |
| Nominal Impedance | | 8 Ohm |
| Recommended Amplifier Power | | > 10 Watt |
| Recommended Room Size | | > 20 sqm |
| CDC (Contr. Dispersion Characteristic) | | Yes |
| CPC Crossover (patent pend.) | | No |
| | | |
| HORN | | |
| | | |
| Horn Type | | Spherical Horn |
| Horn Material | | ABS Inj. Molding |
| Horn Surface | | Polished/Lacquered |
| Horn Dispersion Angle | | 180 Degrees |
| | | |
| Horn Area | Low-Mid Range | n/a |
| | Mid Range | 0.353 sqm |
| | High Range | 0.025 sqm |
| | | |
| Horn Diameter | Low-Mid Range | n/a |
| | Mid Range | 670 mm |
| | High Range | 180 mm |
| | | |
| Horn Length | Low-Mid Range | n/a |
| | Mid Range | 370 mm |
| | High Range | 85 mm |
| | | |
| HORN DRIVERS | | |
| | | |
| Diameter | Low-Mid Range | n/a |
| | Mid Range | 170 mm |
| | High Range | 25 mm |
| | | |
| Magnet Material | Low-Mid Range | n/a |
| | Mid Range | Ferrite |
| | High Range | Ferrite |
| | | |
| SUBWOOFER | | |
| | | |
| Amplifier Power (RMS) | | 250 Watt |
| Power Reserve Capacity | | 60,000 ?F |
| Toroidal Transformer | | 330 VA |
| REAL TIME Control | | Yes |
| ADRIC Control (patent pend.) | | n/a |
| Active Crossover | | Variable 60 – 350 Hz |
| Subsonic Filter, 3 Steps | | 20 / 30 / 40 Hz |
| 12V Remote Trigger Switching | | Yes |
| Smart Limiter | | Yes |
| SoftStart Circuitry | | Yes |
| | | |
| Driver Diameter | | 250 mm |
| Drivers per Bass Module | | 2 |
| Magnet Material | | Neodymium |
| | | |
| DIMENSIONS/WEIGHT | | |
| | | |
| Dimensions | Width | 670 mm |
| | Depth | 600 mm |
| | Height (+/- 15 mm) | 1,595 mm |
| | | |
| Weight | Satellite (p/piece) | 79 kg |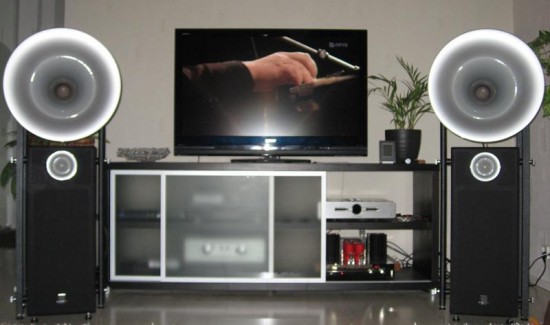 VIDEO